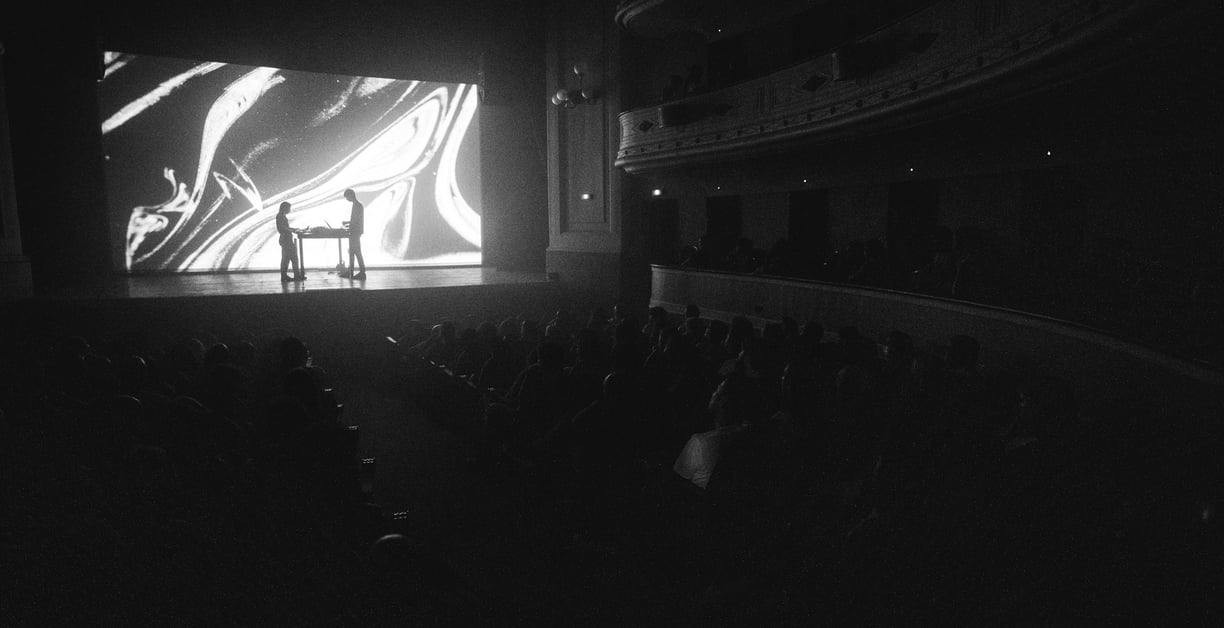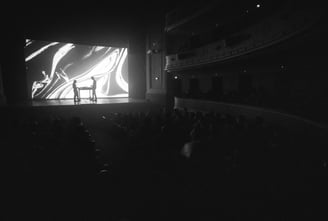 After thousands of years of human existence, and even in the last 250 years when progress has accelerated significantly, the number of unknown things still remains immeasurably superior than what science has been able to explain so far.
Humankind, as individuals and as a society, is led by the desire for knowledge in order to give meaning to what is unknown.

The exploration of undisclosed territories of knowledge is the way that one uses to reach a deeper understanding of oneself and the surrounding space.
By pushing the boundaries of rationality one can discover what lies in the mist of the unrevealed.
FOG is a live-performed audiovisual piece that explores the balance between the comfortable feeling of the known and the uncomfortable exploration of the limits of one's incomprehension.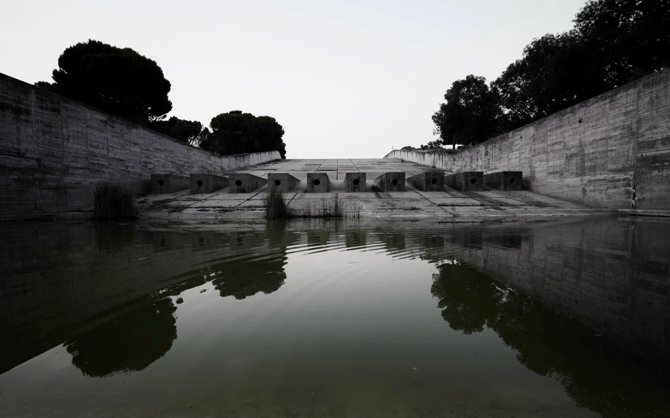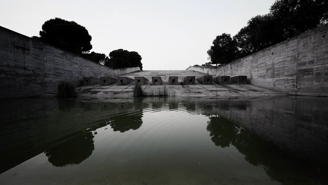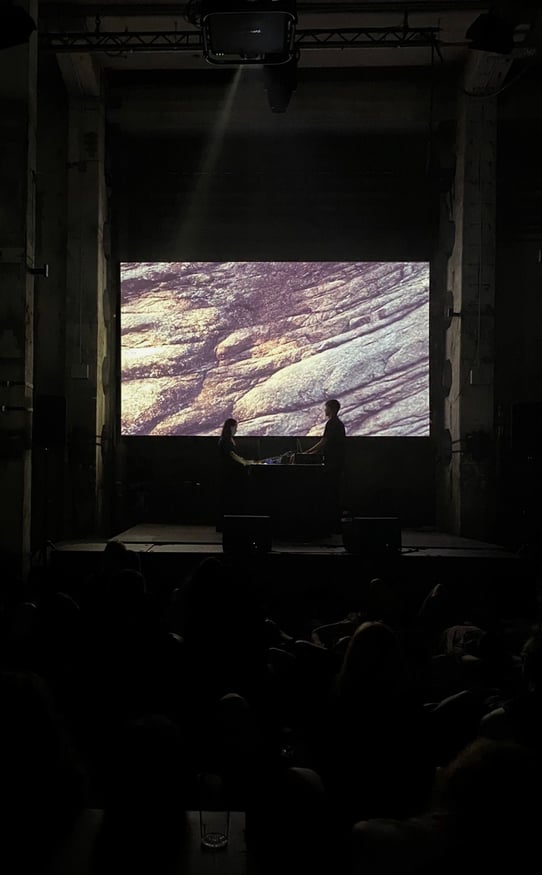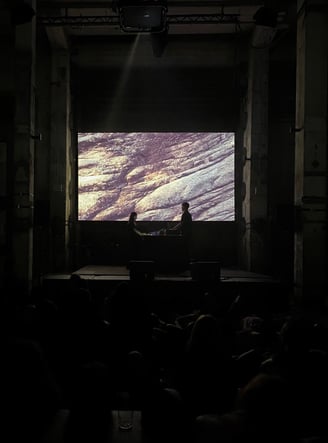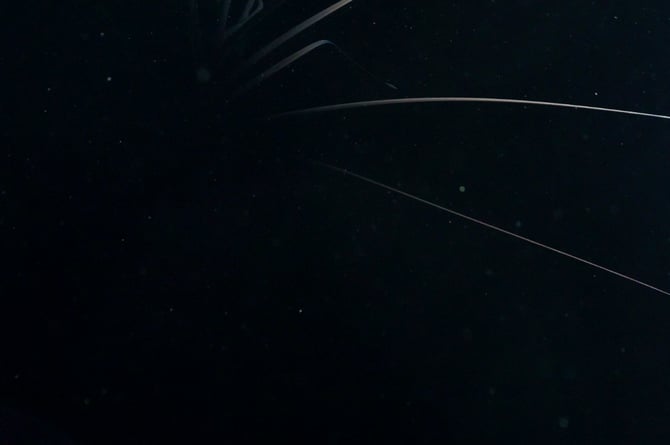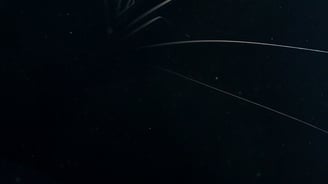 Aimée Portioli is a Berlin-based Dutch-Italian composer and sound designer who records and performs as Grand River.
Portioli makes experimental electronic music with rich emotional colours. Her work, influenced by minimalism and ambient music, is atmospheric yet rhythmically complex, incorporating a wide range of contemporary compositional and production techniques.
The name Grand River evokes nature, scale, and movement, all key forces in Portioli's work. Her first release as Grand River was 2017's Crescente EP, which was named by XLR8R as one of the best releases of the year. She followed this with her debut album Pineapple (Spazio Disponibile, 2018), which garnered praise from The Quietus among others, while its follow-up Blink A Few Times To Clear Your Eyes (Editions Mego, 2020) was positively received by Resident Advisor and The Verge, and was elected among best albums of 2020 by Inverted Audio. Her work has separately appeared on compilations by Ghostly International, Tresor, and Longform Editions. Her third album All Above will be released in 2023 once again on Editions Mego.
Since 2016 he has had a tight partnership with the musician Grand River, with whom he created an audio-video performance called "0.13%" about the relationship be- tween humans and nature; a topic always present in both artists' work. They have performed the show at various events such as Mutek, Transart, and Mapping Festival. Ciceri also curates the graphic design for One Instrument, the record label Grand River runs. While working with studios Ciceri also worked independently participating with installations and live performances in several international events and venues including Terraforma, Nextones, Berliner Philharmoniker, C2C, and Circle Of Light. He has continued his partnership with Grand River and has started a new collaboration with Alessandro Cortini.
In his works, Ciceri mixes different media and techniques to achieve richness in the details and what he calls a "flowing esthetic". For his animations, he often uses automated movements created with generative software or physical motorized gears.
duration: 45'
live performed audio-visual piece
concept, musical composition, arrangements and sound design by Aimée Portioli
concept, visual art and filming my Marco Ciceri
PAST SHOWS

Tresor 31, Kraftwerk, Berlin, DE
NODE Festival presents Staccato, La Torre, Modena, IT
DAVE Festival, Dresden, DE
Barbican Centre, Main Hall, London, UK
WOS Festival, Santiago De Compostela, ES
Triennale Milano Teatro, Milan, IT
Stereolux, Nantes, FR
Théâtre Hexagone, Scène Nationale Arts Sciences, Meylan, FR
Besides her studio albums, Portioli has created original sound art installations for Rome's La Galleria Nazionale and Milan's Il Pianeta, a project of Terraforma Festival. She also contributed her interpretation of a meditation piece for the Soundworks app together with MUTEK, collaborated with Ableton for the creation of Live 11 and Ableton Loop and created and performed her piece "Tuning the Wind" in 4D spatial sound on several occasions.
Portioli has performed as Grand River at major international venues and festivals, including CTM Festival, NODE Festival, Berghain, MUTEK, Mapping Festival, Kraftwerk, Barbican Hall, Funkhaus, Maintenant Festival, Le Guess Who?, The Labyrinth, WOS Festival, and many more. She was selected to take part in SHAPE Platform's 2021 programme.
She collaborates with visual artist Marco Ciceri on special A/V performances, as well as on the visuals for One Instrument, the record label she founded that invites artists to respond to a unique creative brief – to create a piece of music using just one instrument.
Aimée Portioli holds a bachelor's degree from the Faculty of Linguistics and Communication of Milan. Her thesis explored the psychology of the communicative function of music in media. Her work today is motivated by similar questions of sound and music as a form of communication that goes beyond language.
Marco Ciceri is a Berlin-based Italian media artist.
He studied at the Faculty of Design and Art at the Free University of Bozen/Bolzano, in which his thesis, "Reality", he created an installation that exposed the ever more pres- ent difference between live and mediated reality.
In 2014 Ciceri worked with London-based studio Marshmallow Laser Feast on an installation commissioned by the Lisbon Architecture Biennale. In 2015 he moved to Berlin to become part of the motion graphics studio Pfadfinderei. With them, Ciceri worked on live shows for various musicians such as Moderat, Modeselektor, Paul Kalkbrenner, Ellen Allien, Tale Of Us, and Recondite. He also participated in the creation of visual installations at venues and festivals, including Berghain, Melt, MIT Boston, Funkhause, Primavera Sound, Sonar, ADE and Martin-Gropius-Bau. In his career, he also held workshops about visual music at the Goethe Institut Indonesia in Jakarta and at the Bauhaus-Universität Weimar.